Mike and I have found that we enjoy taking on do-it-yourself projects. Among some of things we have done are woodworking, furniture re-finishing, upholstery, sewing, paint projects, and tin punching.
I have completed so many projects in the past few months, so I figured I better get some of the pictures posted.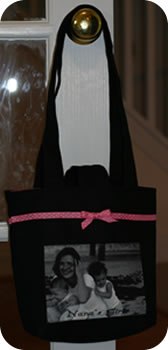 This is the bag I made for my mom.

This is the bag I made for Mike's sister. I made another one for his other sister.

This is the sweater cabinet that Mike made. I painted it a dark turqoise and sanded off some of the paint on the edges to give it an aged finish. Mike doesn't know I did this. Shh!
This dresser was once black. I painted it green. I have since put the rest
of the drawer pulls on it. At the time of this picture I hadn't bought enough.
We finally have a way of keeping Annie out of our computer stuff, thanks to Mike. He
built this beautiful computer armoire in his spare time. Since the computer has to be in Annie's room and since Annie's so mobile now, we thought it best to construct this piece of furniture. The design is modeled after a Crate & Barrel armoire, and it's stained navy blue to somewhat match our living room entertainment armoire. Eventually, the computer armoire will have its own room in the new house. Make sure to give Mike a nice pat on the back the next time you see him. He has worked so hard.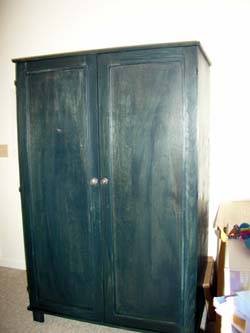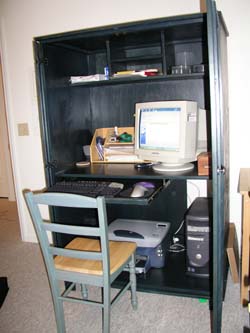 Mike's mom helped me to sew this shirt when she visited us in April 2004. I'm
pretty proud of my sewing skills. I have fabric to make 2 more.

These are my new favorite thing - marble magnets.
They are super easy to make. You just need floral
marbles, magnets, silicone sealant, and a small
pictures cut to the size of the marbles. Assemble with
very little sealant, and wah-la: a very cute magnet.
I orignally made them using rubber-stamped images,
but then soon realized that I could use pictures from magazines or even my own photographs. Mike's sister
Jenni also figured out that you could use fabric as well.
They were a hit with my most recent Stampin' Up party
and with Jenni's quilt group.

I made this purse after seeing how cute Jenni Smith and Sara Evan's purses
that they made were. After some coaching from them, I decided I could make
the big step to attempt the project on my own. I must say I did a pretty good
job (I'm patting myself on the back right now). The purse on the left is the
one Imade, the one on the right is the one Sara Evans made for me. How
sweet of her, huh?